Band Instrument Repair Services
King Music has been your number one source for music since 1981, and our repair shop is no different. Our highly trained staff is here to help you with any and all repair needs you may have. We provide top notch service on all brass, woodwind, double-reed, and string instruments. Our repair shop thrives on quality service from start to finish, a quick turn-around time, and getting it right the first time, every time. We understand the extensive preparation you put into preparing for a performance. Our repair shop is here to help ease those nerves by ensure quality repairs to ensure a highly functioning instrument, the first time and every time.
Have a Repair Question?
Click Our Blue Webchat Button
In Bottom Right Corner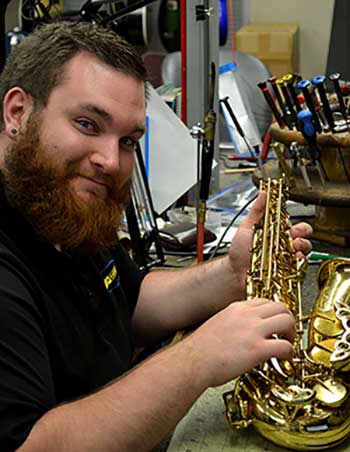 Daniel Evans is the head of our Band Instrument Repair Department. He has been professionally repairing instruments since May 2013. He earned his AAS in Band Instrument Repair from Western Iowa Tech Community College in Sioux City, IA. He continues to sharpen his skills by attending repair clinics around the country provided by NAPBIRT (National Association for Band Instrument Repair Technicians.)
Daniel is a native of Menasha, WI where he spent most of his life before moving into area. Since moving to area he has volunteered as the Bishop McNamara High School Jazz Band Director. He is also an Eagle Scout and enjoys giving back to the local community and scouting whenever possible. Check out our Facebook & Instagram to see what remarkable projects Daniel is working on.
Dan walks through our process of cleaning brass instruments.
About Our Repair Services
FREE Repair Estimates
King Music provides FREE Repair Estimates for Band, Orchestra, and Fretted Instruments.
Repairs: King Music Inc. is your one stop repair shop. We can provide services from a quick fix to complete restorations. Our top notch repair team has the knowledge and resources to walk you through all the options of your instrument repair experience. Feel free to stop in any time or fill out the form below so we can help get your instrument back in great shape today!
Ultrasonic Cleaning: King Music Inc. has a state of the art cleaning system along with environmentally safe chemicals to clean your band instruments. This is vital to keep not only your instrument clean, and keep you safe from any harmful build-ups and even mold from developing inside your horn. A yearly cleaning is recommended on ALL instruments to keep your horn functioning correctly and keeping you safe!
Warranty: King Music Inc. strives to provide excellence in our repair shop. We keep extensive records on all horns that come through our shop. Any instrument that is repaired at King Music Inc. gets a 90 day warranty on ALL repairs performed.
---